Best Golf Balls For Beginners
If you are just starting out in this awesome sport, then let me first say… welcome! Hopefully, the golf addiction has hit you hard… it's a real thing. You're here looking for the best golf balls for beginners and I'm going to share with you some great golf balls to start your game with. Here are 3 of the favourites but scroll down to see all the options and find the right one for you. 
Members Choice
With an incredible 35% of votes, the Srixon AD333 is a member favorite as the golf ball they recommend for beginners.
Editors Choice
In full honesty, the Srixon AD333 was the ball I started off with and I lost a lot of them. They served me well and I always recommend them. However, I love the Vice Golf brand and have been a full convert to their golf balls. And when buying in bulk the cost of the Vice Drive balls are just £13.99/dozen.
Budget Choice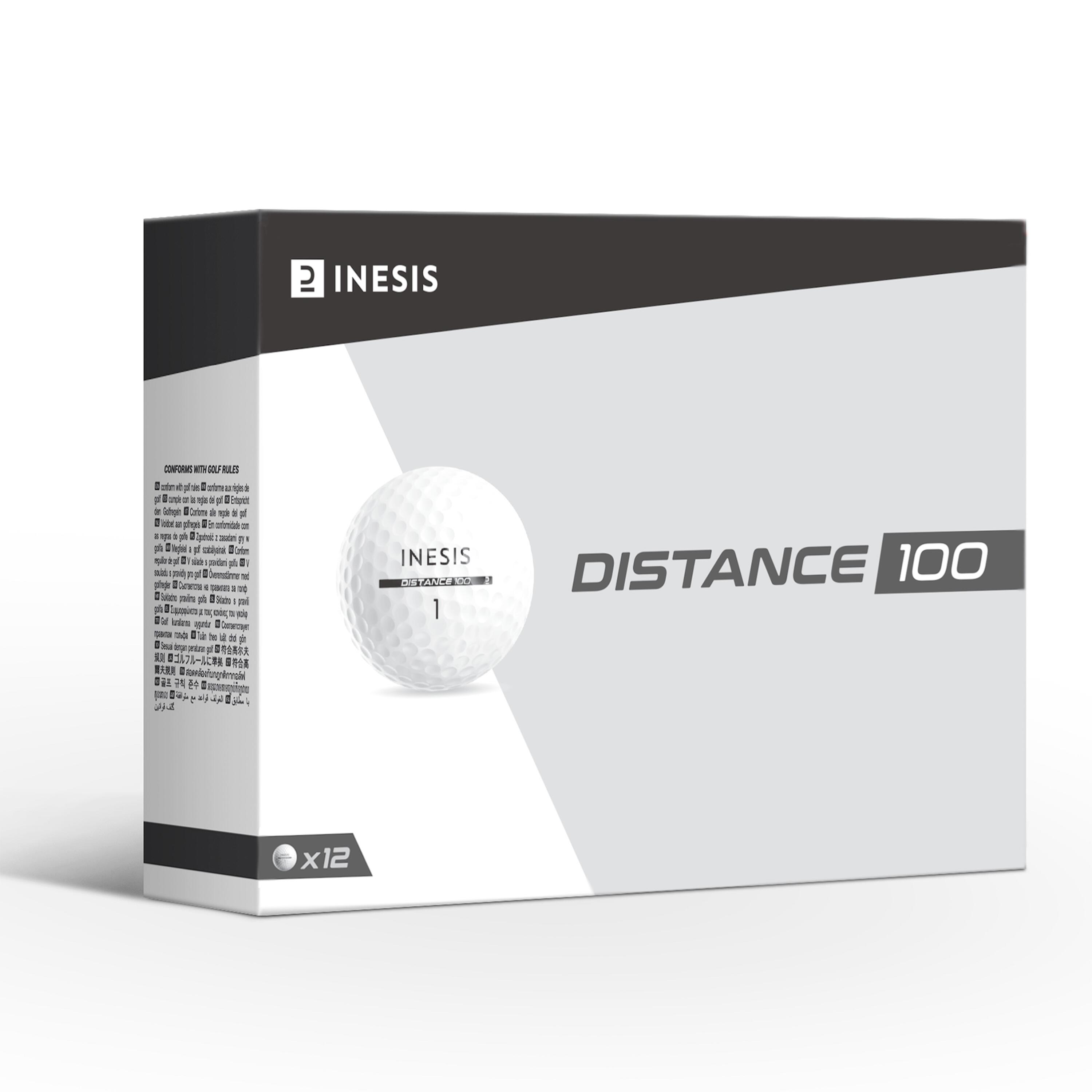 At just £9.99/dozen these are impossible to ignore, especially because they are decent balls. It sounds silly, but their problem might be that they are so cheap people assume they are poor quality, but they'd be wrong to think that.
This post may have affiliate links and we earn from qualifying purchases.
What Do We Want From A Beginner Golf Ball?
Now, what are we looking for in a beginner golf ball? Here's what I'm thinking… 
Price – it's got to be low… You're going to lose a lot of golf balls… and I mean a lot. You don't want to see 3 brand new £4 golf balls disappearing off into the trees in a row… thats just kicking yourself while your down. 
Performance – I'm looking for a ball thats going to help me keep it in play. What I mean by that is one that spins less. Why? Because as beginners we often hit some wild slices and the more spin we have the bigger the slice. Check out this article on why golf balls have dimples for the more sciency answer on that.
I guess the other thing to look at for a beginner is adding some distance to the shots. It's always a nice feeling to see the ball rolling out a nice distance. 
With that in mind let's take a look at what's out there for the beginner golfer.
Watch Out For Techno Babble
Now, golf has a habit of throwing a lot of technical-sounding mambo jumbo at people. And if you are just getting started, honestly, knowing whether a ball has a TruTouch Core, with low compression, and a urethane cover is just unnecessary.
All these golf balls are going to say something like… 
High speed ball for maximum distance off the tee, combined with [insert brand jargon] to give you a great feel around the greens.
Click on each ball's website and they will all say something along those lines. 
So if they are all saying they do the same thing, how do we choose which is the best for you? 
The balls I've selected below are all in the same category, they are all aimed at beginners or high handicappers… so really your decision might well come down to price and which brand you like the look of best. And yes it's totally ok to buy things because you like the brand.
Also, it's important to note the reason Titleist balls are often more expensive in each category compared to other brands…. well they spend the most sponsoring almost every player on tour… they've got to make that money back somehow. The rise of the direct-to-consumer brand in golf has also brought in some new products and competition in the golf ball arena too… they aren't paying players millions of dollars and don't have retail store costs either.
Best Golf Balls For Beginners
Vice Drive
Price UK: £13.99-£19.99
2-Piece DuPont™ Surlyn© construction
Great durability - Tough and cut resistant - just in case you find yourself bouncing off trees, cart paths.
Stable ball flight
KIL line - the line on the ball for lining up your putts
Tested with a driver swinging at 95.0 mph, the new Vice DRIVE travels 7.7 yds longer than the Titleist comparison and reaches a total distance of 5 yards further. Sure we aren't talking HUGE variations here for beginners.
I am a big fan of Vice Golf, a great direct-to-consumer brand shaking up the golf industry a bit. Check out their caps, apparel, and accessories too.
Srixon AD333
Price UK: Says its £28 but they appear to always be on offer at around £22
FastLayer Core - improves ball speed and gives you a higher launch angle (useful for helping get the ball in the air)
Spin Skin with SeRM - a coating which gives the ball more spin
338-speed dimple pattern
This was my ball of choice when getting back into the game and I've donated a lot of these to courses everywhere. It's a great all round golf ball and clearly the other Sunday Red members agree, with a, quite frankly ridiculous 35% of them saying this is the ball they would recommend to beginners.
Vice Tour
Price UK: £19.99-£27.99
If the Vice Drive was my ball of choice for year 1 in the game, then the Vice Tour would be my year two ball without a doubt. I almost put this as my editors choice, but I felt the cost of the Drive was too good.
I was going to leave this one out because of its slightly higher price point than the others in this category. BUT….if you are going to be buying at least 3 dozen and I mean if you are going to be losing a lot of balls, or playing regularly, you may as well. Then getting this significantly higher quality ball for the same price or even cheaper than others on this page, then I'd be heading for this one.
3-Piece DuPont™ Surlyn© construction - a 3 piece ball for under £20/dozen really is quite amazing!
A great all round ball!
Titleist TruFeel
Insesis Distance 100
Price UK: £9.99
I don't think I'd ever seen a sub £10/dozen pack of balls. And to see the good reviews this ball has had, to be honest, surprised me. The simple assumption is that because it's so cheap it must be rubbish, but that isn't the case.
At just £9.99/dozen these are impossible to ignore. But how are they so cheap?

Well, there are a few things like… not painting the golf ball. That's right all golf balls are painted, they skipped that stage….. It's still white, it just doesn't have the nice glossy finish. Which is better for the environment when you lose the ball and it saves costs.

Does this affect the ball in terms of performance? Not really. The logo might rub off a bit quicker and the dirt might be a bit harder to remove. But if you have a ball long enough for the logo to start rubbing off then maybe you are getting past the beginner mark anyway.
How does it compare?
The data shows it getting results almost identical to the Srixon Distance and the Titleist Veloctiy (a @£26/dozen ball) and in fact getting a few extra yards off the tee.
Taylormade Distance
Price UK: Around £17
One thing I really like about Taylormade's entry ball is the alignment marks. You've got the bold line for direction then the thin line just to give you that reminder for getting your club face square.... a nice touch I reckon.
Plus Alignment Aid
Soft react core - for easy compression and distance off the tee
One thing that supposed me was how few votes this ball got from our members, with only 3% saying they used this ball or would recommend it for beginners. Taylormade is a great golf brand and I thought there would be more people playing this ball.
Callaway Super Soft
Price UK: Around £27
The Callaway Super Soft wasn't going to make my final list, but then it came in second place from the members' choice, so here it is. The main reason I wasn't including it was because of the price, with the new model coming in at around £28 for me it puts it in that next level... maybe a year 2 and beyond ball. I remember it being much cheaper and as I write this you can still find last year's model on Amazon for around £20.
Callaway Warbird
The Warbird is Callaway's beginner golf ball giving you high launch and good distance.
Alignment line
2 piece construction
Hex Aerodynamics aims to reduce drag and promote that high launch. Meaning the ball will come in from a high and stop instead rolling miles.
Whatever You Find On The Course
Price: Free
Quality: Ranges from an old battered Dunlop, to a brand new, only hit once, ProV1.
Honestly, when getting started there are a lot of people that will say… just use any ball going. And to be fair if I'm having a bad day and I'm fed up with losing new golf balls I'll dig into the bag to find a ball that I've likely found on the course at some point and lose that one instead.
Nothing wrong with this approach in my opinion.
P.S. I thought I'd link to some fun golf balls for this one... check them out...
Make sure to check out CostCo's Kirkland Signature ball too! This has had some GREAT results in testing and comes in at a great price point too.
What about lake balls and refurbished balls, can't I just use those?
This feels like a great option, especially when standing in the pro shop looking at the prices of the balls you know you are about to lose. But there is a bunch of research out there showing that lake balls are dramatically worse, due to having been sitting in the water. And refurbished golf balls, well the research shows that they are just as bad, with a key thing being that they lose much-needed yardage. 
How To Decide Which Ball You Should Use?
Ultimately, I suggest you try a few of the brands and see which one you like the feel of the best. 
Once you've found a ball you like, stick with it. Getting used to one ball will definitely help. Why? 
Well because all golf balls will react differently off the face of the club, they will travel different distances and spin more or less than others.
Can A Beginner Golfer Use ProV1 Golf Balls?
Of course you can… but the only difference you will feel as a beginner golfer between the ProV1 and any of the other balls in this review is the increased pain as you slice these out of bounds…at £50/dozen they don't come cheap, and realistically aren't going to impact your game enough at this point. 
–> Save those pounds and put them into lessons instead.
Always Mark Your Balls
Whichever balls you decide to get, make sure you grab a sharpie too so you can mark your balls. 
Whether its a dot, or two, or three, a smiley face, initials, a circle round the number, it doesn't matter, just remember you have to mark it so you know its yours when you are searching in the woods and find three Srixon AD333's.
Along with your personal pattern, I would always draw a line on the ball for lining up your putts as well. Some balls already have this printed on like the Vice golf balls, but many leave it up to you to do that. So grab something like this to make sure you draw those lines straight (also this one comes with 4 Sharpie-style pens too)
What Next?
If you enjoyed this review on the best golf balls for beginners then make sure you check out the Best Putting Mats guide as well. If you want to improve your putting, a key part of your game, then getting a putting mat could really help. Click here to check out the guide now. 
More From Our Beginners Guides To Golf
The fact you're looking at this page suggests you are new to this awesome game. With that in mind why not check out some of the other Beginners Guides To Golf we have: